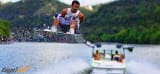 Billy Garcia: Pushing Wakeboarding in Texas
Ask anyone on an Austin lake if they've heard of Billy Garcia.
Their answer: "Yeah, I know Billy!"
I'm telling you, Billy is a legend and has made wakeboarding an art.
He has one of the coolest stories IMO. Not only does he teach wakeboarding for a living, but he was a coach for MTV's 'Made' and is the coach for Texas Wake, the University of Texas' Wakeboarding Team.
Billy runs his own business Freeride Wakesports, which is an exclusive Tige towed wake school on two of the best lakes in Texas: Lake Austin and Lake Travis. You can find Billy year round regardless of the temperature in his black and green FreeRide Z3 teaching Texas how to wakeboard, wakesurf, wakeskate, barefoot, and ski. From pros to kids to parents to beginners, Billy will find a way to advance your skills.
Billy is famous to me just for being a coach on MTV's 'Made', which I watched religiously as the reality-tv junkie teenager I once was. Being easily starstruck, I just had to ask him if he had ever coached anyone famous before. Turns up, Billy has indeed coached celebrities, including the cast and crew of the Texas Chainsaw Massacre remake, Friday the 13th, and actors Topher Grace (That 70's Show) and Jordana Brewster (Fast and the Furious).
Billy recognizes that he has a pretty outstanding resume, but he is most proud of developing and coaching young pro riders. Billy was particularly proud of J.B. O'Neill, who you might recognize from being featured on WakeWorld this year. Billy met J.B. 10 years ago when J.B. was 10 years old at a local grassroots contest. J.B. is now a pro-rider and a coach for FreeRide Wakesports and is making his own statement on the industry with his individual style and video editing.
If you're ever on Lake Austin or Lake Travis and see Billy with his black and green Freeride Z3, stop by and say hi. You might even learn a thing or two!