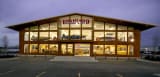 Bradford Marine of Arkansas Joins the Tige Family!
Tige Boats is proud to announce the addition of Bradford Marine to their worldwide network of dealerships. Bradford Marine has been family owned since 1971 and has four dealerships to serve Tige owners and future customers: Springdale, Hot Springs, Texarkana and Little Rock.
"We are very proud to offer the #1 surf boat in the country to our customers," stated Lev Bradford of Bradford Marine. "We feel Tige represents a segment of a growing portion of the boat market. Surfing is a very fast growing segment of water sports and we are very excited to be a part of the tow boat community!"

Bradford Marine and Tige Boats share a commitment for customer service and pride their businesses being built on service first. Bradford Marine will display the full range of Tige models in their showrooms for all of your boating needs.
Bradford Marine & ATV - Springdale
2325 N. Thompson
Springdale, AR 72764
Phone: 479-750-1200
Bradford Marine & ATV - North Little Rock
8020 Landers Road
North Little Rock, AR 72117
Phone: 501-833-2628
Bradford Marine & ATV - Hot Springs
2925 Albert Pike Road
Hot Springs, AR 71913
Phone: 501-767-2925
Bradford Marine & ATV - Texarkana
8425 North State Line
Texarkana, AR 75501
Phone: 903-794-2628