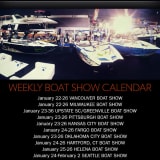 Come see us this weekend!
Tige Boats are all over the country this weekend- Come check us out at one of our 9 boat shows: Vancouver, Milwaukee, Upstate SC/Greenville, Pittsburgh, Kansas City, Fargo, Oklahoma City, Hartford, Helena and Seattle.
TeamTige riders Yan Lecomte (Seattle), Aaron Rathy (Vancouver) and Ashley Kidd (Kansas City) will also be making boat show appearances.
See you there!