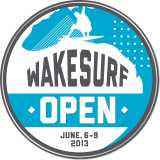 Convex VX Professional Debut Coming to West Coast
The first stop of the Endless Wave Tour officially is in one month! Tige is taking over Camp Far West Lake in Wheatland, California for the 4th Annual West Coast Wakesurf Open.
The Tige Z3 is the official towboat of the West Coast Wakesurf Open and is locked and loaded with the patented wave-making phenom: The Convex VX! Tige test drives, board demos, and pro rider surf clinics will be available on Thursday and Friday with competitions following on Saturday and Sunday.
The West Coast Wakesurf Open is known for being a fun family filled weekend with a camping atmosphere. It's a great place to meet new friends, try and buy boards, learn new moves, as well as watch the pro's compete. Camp Far West Lake offers plenty of room for family and spectators and will also be live streaming at wake9.com.
Tige's Endless Wave Tour is pushing the wakesurf revolution with five events across the country. The following stops of the Endless Wave Tour include:
• June 20-23 – WWS Summer Shred Fest – Fort Collins, Colorado
• July 19-21 – Wake the Desert – San Angelo, Texas
• August 1-4 – Boise Surf This Bash – Boise, Idaho
• September 12-15 – Texas Surf Showdown – Dallas, Texas
Thanks to our wonderful sponsors of the 1st Stop of the EWT: Wake9, California Marine Sports, Protomet, Wet Sounds, Clarion, Brigade Wakesurfing, Mendonesia Surf, Soulcraft Boarding, Wake Shredder.
To register or find more information, visit endlesswavetour.com.