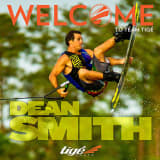 Dean Smith makes the big switch to TeamTige!!
We are so excited to announce that Dean Smith has jumped to the TeamTige Global Wakeboarding Team.
"Tige is a fresh company that continues to push their brand in the right direction," stated Dean. "I'm stoked to be working with them from the ground floor on new products and being able to take my tricks to the next level behind their boats!"
"We are thrilled to be adding Dean to our team of world-class athletes," stated Rick Correll, President of Tige Boats. "When Dean came out and rode our new wake for the first time, he was blown away! His accomplishments and credibility in the sport provides further verification for our direction to set the wakeboarding world on end."
Dean Smith is a world-wide wakeboarding sensation coming from Australia. He is devoted to constantly progressing what's possible behind a boat and continues to steal the top of the podium around the globe. Dean is also sponsored by RipCurl, Ronix, Rockstar, and Performance Ski & Surf of Orlando.