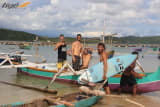 Dominic Lagace: Island Adventures
Lombok is an island in West Nusa Tenggara Province of Indonesia. It's one of the closest islands to Bali and the flights were so cheap that we couldn't skip out. We booked our flight for only $20 and took half and hour to arrive at the new International Airport at Praia Lombok. Flying in we saw little lovely islands, volcanos, rice fields, and a very green Lombok. The view from the sky was more than awesome.
Lombok is very different than Bali… not so many tourists and more locals living the normal life. They are ruled by their religion with most of them being Muslims and a little percentage of Hindus, like Bali. Beautiful waves and islands surround Lombok. Lombok is a famous divers destination, which put it on the international scene many years ago.
Closer to Kuta, we found a bay that had 4 breaks called Gerupuk. We rode our motorbike 20 minutes down a beautiful dirt road full of bumps, and then we had to take a boat. The boats brought us to where we wanted to surf and they waited for us until everybody finished surfing. I loved this spot. We had a lot of fun. The sun in this part of the world is incredibly strong, so rash gard, sunscreen and a lots of water are all musts everyday.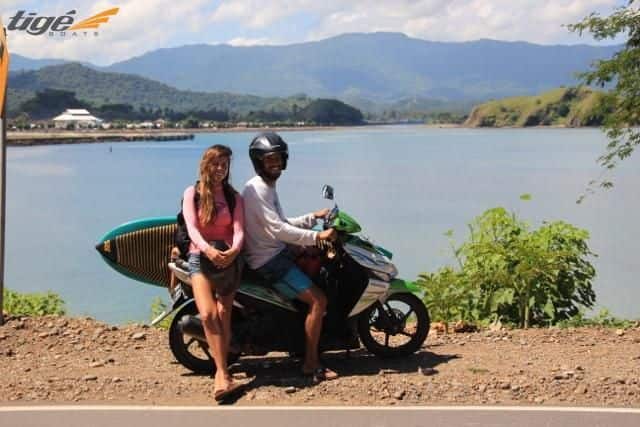 We met some new friends, 3 guys from Italy and 2 Spanish guys. It was nice to ride, eat and at the end of the day tell stories with them. Our view had millions of palm trees, perfect blue skies, cows here and there, and smiling lovely faces everywhere. The lineup was like 100 meters from the beach so we had to paddle and paddle until we arrived at the line up. The waves were amazing but definitely not for beginners. The reef was just beside us and was super sharp. I got a new reef tattoo on my leg out there too, haha….
After a few weeks we decided to jump to the island Sumbawa. We drove a scooter and still carried all of our stuff… boards and clothes. We were the only tourist so everybody looked at us strange all the time. We met a local guy, Haris, that worked in a home stay at the exact place we wanted to go… so lucky!
Haris offered us to follow him and he showed us the way. When we saw the island for the first time, we could immediately see that it was so different than Lombok. There were not many trees, grass, bushes or palm tress, but still very beautiful. We took our bike once again until we arrive to a wave call 'Yoyo's'. It's a bay with only 3 places to sleep and just on the other side of the mountain, there's a wave called 'Tropical'. We stayed in a home stay call Santay just in front of the beach and close to the Yoyo's. The tides, the winds, and the swells always make a new challenge so you never get bored trying to find the best time and the best conditions to ride…
In the home stay there was more people from all over the world. There's nothing close around and the closest town was like 10 minutes away. At the Tropical there was only a surf resort but was not private. The sand was white and the water was incredibly blue. The mountains made a view to die for. The current in this break was extremely strong so we needed to have always a reference point. We saw turtles, a lot of colorful fish, and monkeys on the mountain… It was definitely a tropical surf paradise.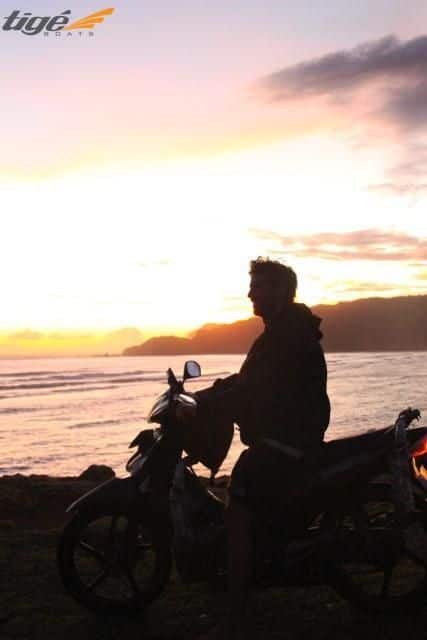 We went to explore the deep Sumbawa Jungle looking for a waterfalls. The map said only 20 minutes walking and to follow the signs. We walked for 40 minutes and realized that maybe we were lost haha… On the way we saw a huge snake, millions of warrior ants, and monkeys on the top of the trees… We tried to take pictures of the monkeys but then we realized they were attacking us! It was so funny because they leaves and branches at us. We came back and took another little road and finally found the beautiful waterfall. We swam for a little bit and then came back back to our "home" just in time for the tropical rain to refresh the island.
Everyday we saw a lot of monkeys living in the wild, crossing the little roads, climbing on the trees, singing loud songs… It was nice to see this kind of wild life without humans trying to catch them or train them.
Every island had its own spirit and beauty, both of them being so different from others and in the same time so close one from another… We met great people, had a lot of fun, and learned more about others cultures and traditions. We had the opportunity to see once again how beautiful and wonderful our world is.