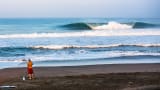 Dominic Lagace: Vida en Mexico
The mainland of Mexico has a lot of beautiful places to explore, from historic places to epic heavy waves. The pacific coast is one of the most alive places you can find.
Boca de Pascuales is a legendary surf spot that attracts the best boarders from around the world. In the summer season aggressive barrel swells range from 2m to 5m, and storm waves occasionally reach 10m. There's a heavy beach break. Pascuales is strictly for experienced surfers; don't tempt fate if you're not up to speed. Surfers from around the world flock to this beach every year to surf its waves. These waves compare to some of the best waves in the world, like Hawaii's Pipeline. A lot of Pro surfers come here to get barreled in one of the most beautiful waves in Mexico.
We like to stay in the hotel of Edgar Alvares, one of the most famous board shapers in this area. This hotel gets super busy with numerous surfers from Australia, Canada, USA, and Brasil. Having to rent a room for months, these surfers often make this little hotel their home.
Currently in Pascuales, there is a women's surfing contest called "Ladies First." It is the first of its kind in Mexico, with a prize purse totaling $25,000 pesos. The purpose of this contest is to promote women's surfing culture in Mexico.

"Ladies First" will be a great step forward for women's surfing in Mexico. Women surfers in this country are ready to show their talents to Mexico and the rest of the world.
Because this was the first competition of its time for women, a lot of people came to watch. The waves were small, but enough for the riders to show their skills. Overall, it was a well-organized event with a full house in Pascuales.
We spent a few days in Tecoman, which is also in Colima. The town had everything we needed such as Internet, money, and food. The best emails, to me, are the pictures of my new boat. I'm so stoked to see and ride behind my new Tige RZR this summer in Quebec. This year is looking great with some Rasta colors. Thanks again, Drummondville Marine Crew, for your support each year. I can't wait to go back and ride all the time.
Every year it seems the contests for wakesurfing start earlier and earlier. It is nice to see so many people stoked for the sport and making it their way of life too. While I'm surfing my winters, I always meet great surfers from all over. Some of them have already tried wakesurfing and imply that it is now more accepted in the surf industry. Spending all day wakesurfing and trying new tricks behind a boat sounds like a dream for ocean surfers.
Life is good!
Doum Lag