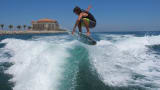 Dominic Lagace: Wakesurfing in Dubai
After more than 30hrs, I arrived in Dubai for the first time. My exhaustion from jet lag didn't take away from the amazing view of the stunning city though.
Dubai is located on the Persian Gulf coast of the United Arab Emirates and is roughly at sea level (16 m or 52 ft above). The emirate of Dubai shares borders with Abu Dhabi in the south, Sharjah in the northeast, and the Sultanate of Oman in the southeast.The local language is Arabic but most of people speak English.
The Wake Surf Club camp is what initially brought me to Dubai, but I arrived a few days before to meet up with Jimmy Redmon. Jimmy is the co owner and shaper of Liquid Force. I had the opportunity to tour the factory where they make most of the Liquid Force boards including my wakesurf pro model board. I was pretty impressed with the size of the factory and all the heavy machinery they use. After my tour of the factory, I understood how Liquid Force maintains a top of the line brand because all of their employees pay attention to every single detail that goes into making a quality board for guaranteed customer satisfaction.
The wake and surf club endless summer camp was very successful. We had several participants improve their skills and tricks such as a rider from Switzerland named Korina Smyrek. The camps were very beneficial, and they do wakesurf camps all over the world. Check out www.wakesurfclub.ru or Facebook Wake & Surf Club for more information.
Later that week, we rode at Dubai Marina in the Persian Golf. It was an amazing place to ride. The water was extremely blue, but a little too salty for me. The water was smoother which helped the board glide across the water faster. It was great to be back on the water wakesurfing after a few months surfing in the ocean even though it took me a bit to get use to my skim board after using a surfboard for the last few months.
The entire week was super busy and eventful with all the riding and activities. I had a chance to go to Al Ain ( 2 hrs from Dubai) to try the wave pool at Wadi Adventure.This is the largest surf pool in the world. With state of the art Wave Pool technology, they can create waves for every level of surfer - from small rolling waves for beginners; to over 3 meter Lefts, Rights, A-Frames and Close-Outs. There I had the opportunity to meet with Matt Scorringe, a New-Zealand pro surfer. He also is a high performance surfing instructor who use to coach pro surfer and Tige team rider Josh Kerr.
Matt also tried wakesurfing for the first time and fell in love with it. It's cool to see my favorite sports (surfing & wakesurfing) getting closer and closer. For him as a surf coach, the boat being a tool for training is something he heavily recommends. You can check Matt out at www.theartofsurfing.co.nz.
It was an adventuring getting to know the locals. We watched the sunset in the desert where some locals had their 4x4 doing some crazy desert riding. They invited me to stay with them after and go with them to have some tea and traditional food, but unfortunately my ride was waiting for me to go back to Dubai. That little part of the day made my whole trip so much better just by meeting the locals. They were very welcoming. We headed back into Dubai where we went sea fishing and caught a lot of different small fish that we cooked. Then, we went to have a drink at the top of the highest building of Dubai Burj Khalifa, the tallest building in the world. The Burj Khalifa skyscraper is a world-class destination and the magnificent centerpiece of Downtown Dubai, Dubai's new urban masterpiece. The world's tallest building is surrounded by hotels, must-visit shopping destinations and a world of entertainment options is located in the floor 123, amazing view. I got to see so many luxury cars. It blew my mind that the police cars were Ferrari, and Lamborghinis.
I'm sure I forgot some stuff but if you have the chance to go to Dubai don't miss it. It's something outside of ordinary.
Now off to Spain for another wakesurf camp!