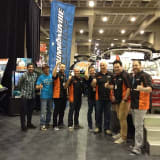 Dominic Lagace's Trip Home to Montreal
After spending my winter months in Manzanillo, it was time to head to my hometown of Trois-Rivieres for 10 days. My mom picked me up from the airport and the difference in the weather was a joke. I left Mexico at 32c and arrived in Montreal at -20c.
My first stop was to see my family. I got to see my two nieces, Eve and Rose, along with the rest of my family. It's always super nice to see them. I then went to S3 Boardshop to pick up my new gear for the year. I have been riding for S3 for more than 10 year and I love being a part of their family. They are all good friends of mine and have a vision for skateboarding, snowboarding and surfing.
The next day I went snowboarding with my friends Philip and Katia for the first time since 1999. We drove two hours to Mont Sutten to a super nice park. After Mont Sutten, I drove to Montreal for the Montreal Boat Show. I went to see my friends and sponsors at Rip Curl to pick up more new gear for the year. I picked up clothing, wetsuits, board shorts, and watches. They make the perfect gear for riding. Thanks Ben and Julie.
Every year the Montreal Boat Show attracts people from all over Quebec. Quebec has a ton of rivers so watersports are very popular in this part of Canada. Riding season is only 3-4 months so everyone enjoys being on the water with their families during that time.
Yan Lecomte, TeamTige Wakeskater, and Daniel Gutierrez, Director of Marketing and Design at Tige, were also at the Montreal Boat Show. Drummondville Marine is the local Tige dealer. Last year Drummondville was the 2nd highest in sales in the Tige dealer network. It's nice to see everyone interested in the new ASR and the Convex VX. We also had a display of the Coanda Effect at the boat show to display how the Convex VX really works and it was a total success.
After 11 days in Quebec, it was time for me to head back to the beach. On my flight back to Manzanillo, my luggage weighed 23kg of clothes, hats, rash guard, wetsuits and everything else I could fit in my bag to donate to the locals at the beach.