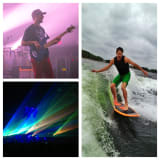 Erik Ruck: Wakesurfing with 'Umphrey's McGee's' Ryan Stasik
If someone were to ask me what my passions are, I would have to say wakeboarding and music. This year for my birthday, I had the ultimate mix of both! One of my favorite bands, Umphrey's Mcgee was playing for the first time in Orlando, and it happened to fall on the night before my birthday. I also had a couple of good friends and my brother in town visiting from Wisconsin. They also love wakesurfing and music!
Everyone knows Dano the Mano. If you don't, he announces the Pro Wakeboard Tour along with various other wakeboard and waterski events. You may know him as 'The Noise of the North', 'The Master of Mayhem', 'The Boy with the Golden Toy'... I could go on and on. Anyways, Dano somehow knew Umphrey's Bass player's (Ryan Stasik) brother in law. He got in contact with him to see if we could meet up with Ryan and take him out on the boat and go wakesurfing, or just hang out before the show. Ryan was super into it and called up Dano.
The day finally came to take Ryan out wakesurfing. Dano and I drove to the venue that Umphrey's McGee was playing at, and we drove around back to their tour bus. Ryan walked out, we introduced ourselves, and we got back on the road back to my house to go surf. As we started talking to Ryan, we soon realized he was a super down to earth guy that was into a lot of the same stuff we were. We got back to the house and chilled out for a bit and then loaded up the boat and cruised out on the lake.
The week before our surf session, the water was glassy and the weather was sunny! Figures that the day we were suppoesd to go surfing was windy and cloudy. It looked like it would bust out raining any second! I was like, "don't worry were going to get the split!" Luckily we did not get a drop of rain!
When we finally got out on the water, we all took a set to show Ryan what it was all about. After all of us had a fun sesh, it was Ryan's turn! He had never surfed before, but he was ready to give it a go! We got him out there and up in two to three tries. As soon as he was up, my brother moved to the back of the boat and started giving him pointers. By the end of his sesh, he was carving around without the rope for a good little bit! He was super stoked and said that it was something he could totally get into!
After we were done on the boat, we got some lunch and dropped him back off at the Venue for sound check. He told us we should get a drink with him before the show, so we met up with him at a little place down the road and hung out until he had to get ready to start.
The show was unreal! It had been a couple years since I had seen Umphrey's McGee and it was an epic show! They played a wide variety of their music and a classic cover! None the less, it was a great birthday treat! After the show was over, Ryan got us backstage and we ended up going back out with him for a night cap!
It ended up being a birthday for the books, and I was so glad we got to hang with Ryan and show him a bit of our world! Thanks Tige for giving me the means to do so!