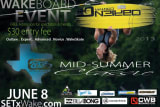 Everythings Bigger at Texas Wake Competitions
Tige Dealers in Texas are doing it BIG this year! We are excited to have such a strong presence and to be the official towboat of the biggest wake events in Texas.
Eagle Marine of DFW and Texas Tige of Houston/Conroe announced this week that they are the official sponsors of SETx Wakeboarding Mid-Summer Classic just outside of Beaumont, Texas! The established grassroots wakeboarding event focuses on fun and pushes for progress among SETx local & regional riders.
Other Tige events in Texas this summer include:
Eagle Marine's River Roundup "Party on the Brazos", Weatherford, June 21-23
Endless Wave Tour: Wake The Desert, San Angelo, July 19-21
Endless Wave Tour: Texas Surf Showdown, DFW, Sept. 12-15