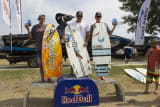 EWT #5: Texas Surf Showdown
he inaugural year of Tige's Endless Wave Tour finished in style at the Texas Surf Showdown. The Texas Surf Showdown definitely peaked as the final event of the season while capping out at 75 riders and crowning the Endless Wave Tour Champions!
The Endless Wave Tour truly powered the wakesurf revolution by attracting top pro
and amateur riders from across the world and having stops in California, Colorado, Texas and Idaho! The EWT would not be possible without the help of generous sponsors including: PTM Edge, Clarion, WetSounds, Indmar and local sponsors First Financial Bank, CWB, Boarders Magazine, Stamina, DFW Surf, Holiday Inn Express, Hyperlite and Boatmate Trailers.

With the huge success of the first year, the second year of the Endless Wave Tour is in current development and the schedule will be released in early 2014. Check out the EWT Facebook page for updates throughout the year.
TEXAS SURF SHOWDOWN WINNERS:
Open Men's Surf
1-Chris Kinsey
2-Chase Hazen
3-Chris Wolter

Open Men's Skim
1-Aaron Witherall
2-Dominic Lagace
3-Brandon Tolliver

Open Women's
1-Ashley Kidd
2-Raleigh Hagler
3-Korina Smyrek

Outlaw
1-RJ Garcia
2-Parker Payne
3-Ford Chupik

Amateur Men
1-Hunter Clement
2-Pete Lange
3-Danny Braught

Amateur Women
1-Allison Sos
2-Taylor Beaver
3-Jennifer Concienne

Junior
1-Thomas Garcia
2-Perry Morrison
3-Erika Sos
Master
1-Rob Harrington
2-Greg Laurence
3-Janelle Harrington
Longboard
1-Dominic Lagace
2-Chase Hazen
3-Todd Johnson