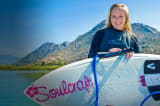 Jennifer Concienne joins Tige Evolution Team
At only 15 years old, Jennifer Concienne has already proven herself as a future leader in wakesurfing. Jennifer is the first rider for Tige to sign for the Evolution Team, a highly talented team of amateur riders working their way to pro status. Dream what might be possible in wakesurfing and we are certain you'll see her exceed it in the next few years! Meet Jennifer Concienne:
TB: So how'd you get into wakesurfing?
JC: I grew up spending summers on my family's boat. We all started wakesurfing about 3 years ago when we bought our first Tige. My second summer into the sport I demoed boards with Squids Wake and fell in love with Soulcraft boards. Jeff Whalers built me an amazing board and last summer my family and I traveled to all of the Endless Wave Tour Events. I ended the season getting 2nd place overall in the EWT Championship and 1st place in the Tige MyWake Global Challenge.
TB: What was the deciding factor for you to pursue a pro career?
JC: In 2013 I attended a clinic with pro wakesurfer Brandon Tollie, hosted by Wakeboard and Waterski Specialty. When Brandon was talking about how fun and relaxed competitions are, I couldn't wait to sign up. The following summer I attended the Endless Wave Tour, at all of the tour stops I was surrounded by amazing people and great experiences. Something just clicked and I knew that being a professional wakesurfer was something I really wanted to do.
TB: Where do you usually ride?
JC: Our home lake is Boyd Lake in Loveland, Colorado.
TB: How stoked are you to be only 15 and already have a boat sponsor?
JC: I am SO EXCITED! Over the last year when I was competing at The Endless Wave Tour I really got to know the Tige riders. They are all amazing people and I realized how much of a family Tige Boats really is. I feel so incredibly honored to be given the opportunity to grow in my wakesurfing career while surrounded by the passionate and caring people who work and ride for Tige. I'm really looking forward to many years ahead with a Tige sticker on my board.
TB: Living in Colorado can be tricky for training. How do you train during the off season?
JC: I try to stay as active as I can, even with all the snow piling up. I dance six hours a week and play on our Goofboard to stay in shape. A big part of my winter is spent snowboarding with my family, along with a couple trips to someplace warm to wakesurf. As soon as the ice melts off the lake we bundle up and brave the cold to start training again.
TB: Is there any rider that you've never gotten a chance to ride with that you would really like to?
JC: I would love to ride with Josh Kerr. I've always been really intrigued by ocean surfing and I think it's really cool how he is taking his ocean background and applying it to wakesurfing. His style is really unique.
TB: If you weren't wakesurfing, you would be?
JC: If I wasn't wakesurfing I would probably be pursuing a professional dance career.
TB: What do you think makes your riding style unique or different from other riders?
JC: I spend a lot of time watching ocean and other wakesurfer's videos. I then take some of their skills and tricks and make them my own. Riding goofy , which is less common, definitely makes this challenging but also allows me to add my own flare.
TB: Who are your other sponsors?
JC: Soulcraft Boards, Wakeboard & Waterski Specialty