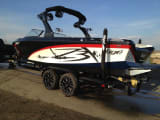 Jerry and Traci Schafer: Three Time Tige Owners
Jerry and Traci Schafer of Denver, Colorado have been in a Tige for 8 years and are now 3-time Tige owners as they came to the Factory to pick up their brand-new 2013 Z3 purchased through Waterski Specialty out of Denver.
The couple got involved with watersports when they first started dating about 15 years ago. Jerry wanted to purchase a boat because it was something that the whole family could get involved with. In 2005 after owning several other ski and wake boats, the Schafer's took home their first Tige – a brand new orange and white 22v. As the years passed and the RZ2 was released, they fell in love with the pickle fork bow and decided to upgrade to a 2008 Tige RZ2.
With children growing up and many good memories that have been made behind their boats while enjoying wakeboarding and wakesurfing, the time was right again for a new boat and they are headed back to Denver with a full metallic Z3. Jerry and Traci are excited about the new features in the Z3 including the Alpha Z tower, TigeTouch, and the ballast system, but they were sold to the Z3 because of the "styling and the interior layout."
I asked the Schafer's how they got hooked on Tige, and I got a very similar answer that I get from other Tige Owners in Colorado: "Because Waterski Specialty is phenomenal… They are really nice, good, and honest people."
The Schafer's go to Standley Lake several times a week and their summer plans include a trip to Table Rock Lake in Branson, Missouri and possibly even the Tige Owners Reunion in Colorado. Jerry and Traci have three daughters: Mikaela, Mariah, and Toni.