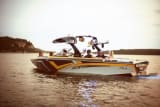 Johannesburg Boat Show: Starring the Tige Z3
South Africa's Dealer of Tige Boats and 2013 SA Pro Mens Wakeboard Champion, Shaun Faccio, is unequivocal in his praise for the boat that will be spear-heading the company's Johannesburg Boat Show display at the Johannesburg Expo Centre, come August 8.
"The Z3 will be at the forefront of my exhibit. It's THE ultimate wake and surf boat. The Tige Z3."
Faccio is not alone in his admiration for the boat, which is unique in that, unlike competitive wakeboarding and wake surfing boats, it still features a traditional, wide bow design. This means that the open bow design is a very real area where passengers can hang out, along with a large cockpit design set well back and the rear of the boat is still the main area for socialising on the water.
It uses a convex V-hull design, and it is also able to be fully trimmed by the special TAPS2 system, despite the fact that it is of an inboard engine design. Other innovative systems on the Tige Z3 are the Tige Touch Screen system for controlling all functions on the boat, particularly the type of wake set up behind the boat.
The PCM V8 engine is also unique in that it features a fuel system with two pumps and a fuel cell system to prevent vapour locking in choppy waters. The mounting system has also drawn high praise from experts in the marine industry, who have noted that in an inboard design used for leisure boating, the engine mounting system is crucial to eliminate unwanted vibration.
The PCM engine comes in various states of tune, with the Z3 standard option being a 343 bhp (255 kW) version to a 550HP . More than enough for performance that equates to supercar-like sensation when applied to the world of water!
The Z3 will be just one of a range of exotic offerings from Tige at the Johannesburg Boat Show, which runs from the Thursday, August 8, to the Sunday at Nasrec. Tige Boats South Africa has in fact been at the forefront of the wake-boarding revolution in South Afriuca, since it introduced the Tige brand here in 2001.
The Johannesburg Boat Show will run at Nasrec Expo Centre, South of Johannesburg, between August 8 to 11, 2013, and will be co-located with the AMID Motorcycle Show and the Outdoor Lifestyle Show.