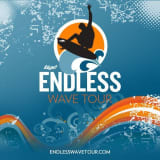 Join us this summer for the 2015 Tige Endless Wave Tour!
Continue the revolution this summer and join us for the ultimate wake surf series, the 2015 Endless Wave Tour.
The Endless Wave Tour will be hosting fun-filled events throughout the 2015 summer. These events are known for their family friendly atmosphere and consistency throughout each competition. The world's best male and female wake surfers will compete for their share of a $40,000 Cash Purse. Mark your calendars for these upcoming stops and follow the Endless Wave Tour on Facebook for the latest news and information. https://www.facebook.com/endlesswavetour
EWT Stop # 1 - May 28-31, West Coast Wakesurf Open - Wheatland, California
EWT Stop # 2 - July 16-19, Wake the Desert - San Angelo, Texas
EWT Stop # 3 - August 20-23, US Open of Wakesurfing - Ft. Worth, Texas
Join us at the West Coast Wakesurf Open and you will leave with new friends for life. This event is one-of-a-kind. Wake surfers near and far bring their boats and are always willing to share. The surfing is off the hook, and you're bound to get to ride on a boat you've never surfed. Wake the Desert boasts the talent of the top wake surfers and wake boarders. It is Texas' longest running water sports event. You won't find a better place to enjoy the talent of the pros, the ambition of the up-and-comers, and the antics of the long boarding competition. This venue offers spectacular viewing and puts you up close and personal with the competitors. Bound to be a grand celebration, the US Open of Wakesurfing is a can't miss event. As the last event of the tour, there is a fantastic and fun filled tour wrap-up crowning the tour champions and recognizing those who have followed the tour series. The US Open of Wakesurfing is a party on the water.
Each stop will have scheduled professional wake surf clinics prior to the competition. Sign-up to ride and learn from the pros on the endless wave of a Tige Boat.