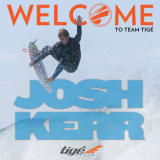 Josh Kerr Joins TeamTige!
We are proud to announce Josh Kerr as a member of TeamTige. Kerr is renown as one of the most dynamic surfers in world and is currently in the Top 5 of the ASP Men's World Rankings.
Kerr was introduced to wakesurfing through TeamTige riders Chase Hazen and Dieter Humpsch. Josh Kerr has found fun and progression by surfing behind Tige boats and is pumped to bring his ocean riding style to the huge wave of the Z3.
"I'm so stoked to be joining the Tige family. Being on a boat is one of my favorite pastimes. With wakesurfing I can do what I love to do in the ocean and share it with the whole family," stated Kerr. "The Tige wakesurf wave is insane…It's literally a never-ending wave!"
"We are pumped to have top ranked pro surfer Josh Kerr join TeamTige," said Daniel Gutierrez, Director of Marketing for Tige Boats. "With Josh being one of the most known and followed surfers in the world, we're excited to have someone of his caliber surfing with us. As a family man his lifestyle is a perfect fit for our brand and vibe. Seeing Kerr shred our boat wave with the same aggressive style he approaches ocean waves is a unique and rare experience."
Josh Kerr is also sponsored by Rusty, Arnette, Peak Wetsuits & Apparel, Nixon, Pro-Lite, 3D Fins, Fish 101 Restaurant and Audi San Diego.