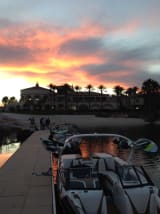 Lake Powell: The Ultimate Playground
After an amazing time in Florida, I flew to Phoenix to meet my girlfriend so that we could spend several days with Mike and Angie Viland. The weather in Phoenix was super hot and dry, but there were beautiful landscapes, sand dunes, and an amazing sky. We visited Lake Pleasant to ride and do a lot of wakesurfing. Mike and Angie are such nice people that are super in love with the wakesurfing world. This last season they attempted 11 contests and even created their own school called Wakesurfers AZ, which is the first wakesurfing school in this area of the United States where they do clinics and coach people.
They live close to the lake so they have the opportunity to ride pretty much all the time. The lake is nice and calm and they also have a Marina. In the middle of the week there are just a few boats out there, and they both go out and ride surfstyle and help each other a lot in their training. We rode all day and would then go out to eat something at night, and then the next morning we would hit the lake again early so that we could have nice water to rid on. We had a lot of luck with a storm that was always behind us, and the four of us were able to ride a lot and try new things. Mike and Angie have a huge collection of boards, both surf style and skim style, so Marina had a lot of fun trying out the different boards. Mike and Angie invited everyone to their boat to try wakesurfing for the first time and helped them to correctly set up their boats. It's super nice to see people sharing their wakesurf passion like this!
Mike and Angie have a friend named Mike that comes to surf with them a lot. He works in a surf shop with their local boat dealer and we were able to ride with him. He's a super nice guy, with a good surf style. We had great time at their place, exchanging ideas and thoughts about the wakesurfing season, boats, boards, events, etc.
It's clear to all that the sport is growing up and there are rules to be made for the future of the sport. The way the community is growing is overwhelming; it's becoming like one big family, most everyone is friendly and all really want to help each other. The level of riding is getting higher and higher in the last events and the judging is getting really hard.
We were all super excited for our next trip to one of the most beautiful places on earth, the amazing Lake Powell. After we finished riding, we took out the boat, cleaned it, and packed our stuff to hit Utah the next day, where Sean Cumming, Missy, Edrick, and his mom would join us to start one of the most amazing trips ever.
The drive from Phoenix to the entrance of Lake Powell is beautiful. As it get super high in altitude, the landscape changes dramatically from desert and cactus to trees and colder weather. The whole area is a Native American reserve, with a lot of Indians living there, artisans, and tourists.
Lake Powell, later that day we met with Sean, Missy, Edrick, Catrina and Jason. We then hit our new home for the next several days which was an amazing houseboat with room to fit 20 people, an open bar in the 2nd floor, and a 3rd floor where we slept.
We had two wakeboard boats to train with and have fun on for the next days. With a lot of groceries, gas, and everything we could ever need, we spent the first night in the Marina waiting for the next people to arrive, making a big dinner with drinks and music. The landscape around the Marina was super nice, and while this marina was mostly used for houseboats, we also had two jet skies, paddle boards and everything we needed to have fun.
The next morning the rest of the crew arrived: Stacia and Cris Banks from Minnesota, Caro Villenueve and Ben, her boyfriend from BC Canada, Jimmi Sparling and Brandon Tollie.
In this area the weather can turn dangerous if there is a lot of wind, so before we took the houseboat into the lake, we went to find a spot close to the rocks that looked safe and at the same time didn't have a lot of other people. That first time in Lake Powell was such an incredibly experience. There were boats doing wakesurfing and as I looked around there were big walls of rock with amazing colors, blue water, remarkable rock formations and desert. This was almost like the Grand Canyon but with water! We all enjoy and love wakesurfing so it was also nice to share techniques and see other people riding.
The next morning we were ready to leave the Marina and bring the houseboat into the lake. We found the most amazing spot to park for the next few days, a little bay with rocks all around. Without other boats, we all set an hour in the morning to jump in the boats. We split the group in two and left the houseboat at 7 am, coming back around 10 am to have breakfast and rest. We all had time to ride, practice, and improve new stuff. Later that day some of us went to paddle board around, some with the jetski to explore inside the canyons, and others chilled in the bar and made food. Our crew was super organized; some people made food and others filled the boats, making it more fun and easy to live all together. At night we all partied in the huge bar on the 2nd floor, playing drinking games and having a lot of fun. The next morning we hit the water again super early to make sure we all had time to ride. The sunset sessions were sick, the colors in the rocks looked super amazing, and all the landscape around us was to die for. We were all training for the World Championship in Vegas, but everyone was so happy to be there that nobody wants to leave!
Marina and I took the jetskis out after it rained one day and went to explore inside canyons. We found the smoothest water in the world; it looked like a mirror. At the end of the way we parked the jetski on the little beach and started walking inside the canyons until we found water again. The further we got in, the closer and closer the walls were got. It was super amazing.
After three days in paradise, Chad Hudson, Nicole and Rob joined us with their new boat. We tried to always go ride with people that we hadn't had the chance to ride with before, making different groups of people for each day. We watched amazing sunrises and sunsets, crazy night skies, beautiful rock formations, clear water and amazing tricks from everyone, making this one of the most fun trips ever.
We didn't want to ever leave, but after nine days in one of the most beautiful places on earth we packed our stuff and hit Lake Vegas for the last contest of the year.
I want to thanks Sean Cumming for the invitation and everyone that made this trip such an amazing time.
Hi-5 Dominic Lagace