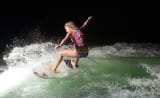 Las Vegas Wins Big With New Tige Dealer
Tige Boats is proud to announce Offshore Marine has joined the global network of authorized Tige dealers. Offshore Marine brings 13 years of experience and knowledge in the marine industry and will serve the Las Vegas and Lake Havasu territory.

"Offshore Marine is excited to be the new Tige dealer for the Las Vegas and Lake Havasu area," stated Shane Forrest of Offshore Marine. "There is big presence of loyal Tige owners in this area. We are thrilled to meet existing Tige customers, as well as new Tige customers."
Welcome to the family, Offshore Marine!