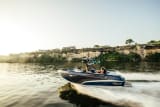 Liquid Planet Marine Joins Tige Boats worldwide family of dealers.
Abilene, TX -- Liquid Planet Marine was founded in 2017 by David Smallback and George Von Walker. With a combined marine industry experience of over 30 years, David and George bring unique perspectives and value to their dealerships. The owners and staff of Liquid Planet Marine share a love for all activities that have to do with boating which creates a welcoming environment for all of their clients.
Liquid Planet Marine has two locations in Florida, but you can find the Tige and ATX fleet located at their Melbourne location. Experience the power of Tige and ATX Surf Boats for yourself at Liquid Planet Marine's waterfront location, where you depart directly from their dock into the Eau Gallie Basin.
Tige Boats Inc. is represented by a worldwide dealer network. Dealership opportunities continue to be available both in the U.S. and internationally to those dedicated to carrying on the Tige legacy and commitment to customer service to Tige customers. Check out Land O' Lakes and Liquid Planet Marine's full line of Tige Boats, including the all-new Z1 as well as the ATX 22 Type-S.
Liquid Planet Marine
729 N. Harbor City BLVD
Melbourne, FL 32935
https://liquidplanetmarine.com/
321.241.1108
Tige Boats, Inc. is a world-renowned innovator, designer, and manufacturer of high-performance inboard boats. Celebrating their 30th anniversary, Tige has cultivated its iconic brand image through their industry-leading innovation, luxurious diamond-stitched interiors, and multisport versatility. From their world-class manufacturing facility and across the 2022 product line, Tige's consistent design-driven mentality has refined the marketplace while forever intensifying the love for wakesurfing, wakeboarding, and waterskiing. Experience the 2022 Tige and ATX lineups now at TIGE.COM/ ATXBOATS.COM