Lynita Hinsch: Battling MS with Watersports
A few weeks ago I had the chance to spend some time talking with Lynita Hinsch of Arizona. I learned a lot from Lyn during our conversation, and she really inspired me. Lyn has had a lot of setbacks in the past few years, but she has pushed through and continued towards her goal.
Lyn was one of the 10,000 people diagnosed with multiple sclerosis in 2004. She was experiencing doubled and crossed vision, severe headaches, weakness in her hands and fingers, vertigo, loss of balance, etc. MS became Lyn's stumbling block. However Lyn, being the strong woman she is, was bound and determined to continue living an active lifestyle.
Through the next several years Lyn had tried several different medical procedures to try to help the pain she was bearing… Yet, there was one thing that helped her overcome MS: Watersports.
Lyn and her husband Eric purchased a Tige last spring, and from the day that they picked it up Lyn didn't want to just be a passenger—she wanted to get in the water with her family. Lyn was unsure if she would be able to hold on to the rope or keep her balance due to her diagnosis of MS, but Lyn pushed on. Soon enough she was up on her wakeboard.
"Once I got up, I never wanted to get down," said Lyn. "The fact that I could get up on a wakeboard was a huge success in my book!"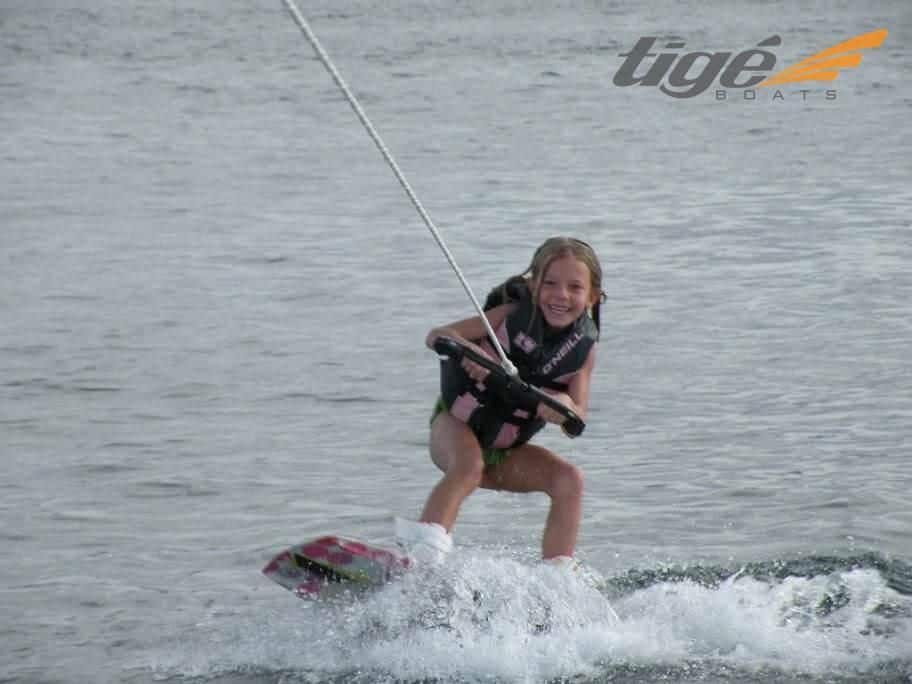 Spending time on their boat is now the Hinsch family's favorite hobby. Not only does Lyn get to strengthen her hands and fingers, she gets to spend quality time with her husband and two daughters. The strength Lyn gained from wakeboarding now allows her to do the little things for her family that she couldn't in the past, like open a 20 oz bottle of soda.
Lyn Hinsch lives in Glendale, Arizona with Eric, and their two daughters, Madison (7) and Alaina (5). Lyn gives all the credit for her recovery from multiple sclerosis to the support of her family, the relationships developed on the lake, and the strength she gained from watersports!