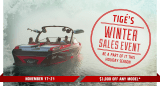 Make November One to Remember with $3,000 in Savings on Your New Tige Boat
We invite you to join the Tige family this holiday season. There is no greater time than now with $3,000 of one-time savings from November 17-21 at your local Tige dealer.
From the new ASR to the highly acclaimed Z3, put a present in the driveway that the whole family can enjoy. Contact your local Tige dealer today because this factory backed incentive is only available for one week!