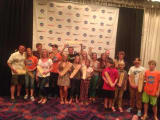 With a trek that began online and earned them coveted invites to Sparks Marina this weekend, a handful of the world's most talented professional wake-discipline athletes opened competition at day two of the Tige MyWake Global Challenge presented by Polaroid Action. Greeting the riders at the Live Main Event was a newly unveiled world-class wake from the brand new Tige ASR boat, which is making its contest debut at the event.
Aussie style-master Dean Smith wasted little time showing off what's possible behind the ASR. Smith boosted his signature gigantic aerials in a heat-winning semifinal run that featured equal parts style and precision. American wakeborder, Austin Hair and Canadian Aaron Rathy gave Smith a run for his money though, finishing in second and third place respectively and paving the way for a dramatic final round tomorrow that will have international bragging rights on the line.
"The semis had a lot of great riding from the guys today and we were all stoked to get a chance to go at it behind the ASR in a contest," said Smith. "I'm happy to take first in the heat today and hope I ride even better tomorrow!"
A stacked field of the biggest names in wakeskating also dazzled the crowd in their semifinals round. Keeping the momentum alive from his August MyWake Global Challenge video submission winning entry, Reed Hansen had the day's most impressive run. The legendary wakeskater linked together a heat-winning run that included wake-to-wake airs and highly-technical flip tricks and rotations that positioned him as the favorite heading in to tomorrow's finals.