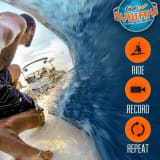 PTM Edge Announces Official Sponsorship of 2015 MyWake Global Challenge
PTM Edge announced that it is an official sponsor of the 2015 Tige MyWake Global Challenge presented by Rockstar Energy Drinks. Kicking off June 1, 2015, athletes from all over the globe can compete for more than $100,000 in cash and prizes right from their own backyard. The full 2015 MyWake schedule will be released May 1.
MyWake Global Challenge features a unique online format, launching 8 rapid fire, trick specific contests, allowing wakeboarders, wakesurfers, and wakeskaters of all ages and skill levels to show off their best tricks via never before seen video footage. Last year, riders represented 12 countries in 15 divisions, gaining viewership in over 125 countries.
Pro Wakesurfer Dominic Legace walked away with the 2014 title and $7,500 by submitting a well-edited video and landing the first ever Hi-5/Flip. Pro Wakeboarder JD Webb placed in a close second with one of the most epic wakeboarding videos of the season.
The Tige MyWake Global Challenge is partnered, sanctioned, and judged by the World Wakeboard Association (WWA) as well as creative judging by Rocket Lab Creative. The WWA is the leading source for riders, events and competitive standards and the undisputed sanctioning and governing body for the sport.
"We are excited to partner with the Tige MyWake Global Challenge as a sponsor," said Jeff Bohanan, president of PTM Edge and its parent company Protomet. "The competition showcases some of the world's most elite and soon to be elite athletes - and it's the perfect place to showcase our unique products."
Last year, the Tige MyWake Global Challenge had over a half-million web views and drew more than 900 registrations making it the largest and most viral competition in wake history. Athletes compete for more than $100,000 in cash and prizes.
For more information about the Tige MyWake Global Challenge visit www.mywake.tige.com. For more information about PTM Edge visit www.PTMEdge.com.
PTM Edge, based in Oak Ridge, Tenn., manufactures precise, high-end OEM boat products in the USA to ensure every product exceeds the end user's expectations. The company's unmatched combination of quality and captivating design allow PTM Edge to offer the highest quality products in the industry.