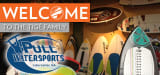 Q&A with Pull Watersports
The Tige Boats family of dealers continues to grow with the addition of Pull Watersports of Cumming, Georgia. Pull Watersports was originally founded as a family Pro Shop focused on helping customers find the products that are right for their needs. We had the chance to sit down with Jenny Serwirtz, owner of Pull Watersports, to answer a few questions of their journey over the years and why they decided to carry Tige boats.
TB: What's the Pull Watersports story?
PW: Pull Watersports was built by people who are passionate about being active on the water. We are all about family and friends, and we believe strongly in helping people discover the immense satisfaction of being surrounded by good people and water sports. Whether your are a slalom skier, a wake boarder, wake surfer, or just like pulling the kids around on a tube – we connect people with the products that help them get the most out of their summer.
TB: Did you carry an inboard prior to Tige?
PW: No, Tige is our first boat brand to offer our customers. We started as a Pro Shop and remain true to who we are as a shop, but we were blown away with Tige when we surfed one. Because we are a pro shop – we had the advantage of riding behind just about every boat and we do a lot of events . Because we are on the water so much with a rope off the back of our boats, people started to ask us about boats and we started to work with local dealers to showcase their boats. We knew we could help sell boats and when we got behind a Tige to surf, we knew WE had to get people on them.
TB: How long have you been in business?
PW: 4 Years
TB: How does your dealership spread the #TigeLove?
PW: We are active in multiple events including the local INT League, Pro Wakeboard Tour, Masters Waterski and Wakeboard Tournament, and the Endless Wave Tour. We also invite riders out for our 'Thursday Surf Night', where people can come out and try different boards, hop on different boats, and just have a great time.