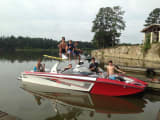 Texas Tige takes new riders aboard
Texas Tige of Houston had an extremely successful weekend of getting new riders behind a boat for the very first time. The Houston based dealership hosted local boys in the age range of 12-15 years old who had never been towed behind a boat before to show them the true 'Tige Experience'. The boys initially learned how to get up on a wakeboard on the grass before they were taken to the dock to try the real deal. It's apparant they couldn't get enough of wakesurfing and wakeboarding because they stayed on the water for over 11 hours!
"We had a fantastic day out on the water with these young guys," commented Eddie Valverde of Texas Tige. "But what was even more fantastic was seeing the smiles on their faces and the passion for watersports being instilled at such a young age."
Texas Tige will host a girls clinic on August 23. For more information or to sign up, email evalverde@texastige.com