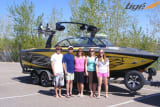 The Concienne Family: Watersports Are A Lifestyle
The Concienne family of Louisville, Colorado came down to Texas to take a tour of the Tige Factory and to take wakesurf lessons with Tige Pro Wakesurfer Ashley Kidd. I think they were expecting some warm Texas weather, but surprisingly it's still been in the 40's here in Abilene. The Concienne family (Bob (dad), Barbara-Lyn (mom), Jennifer and Michele (daughters), and Michael (son)) were so fun to be around and their love for watersports shined bright as our conversation continued.
Bob and Barbara-Lyn met in college and then bought their first boat together to support Bobs passion for waterskiing. Several years ago, the Concienne's upgraded to the Tige 22Ve and then again in 2012 to the Tige Z3.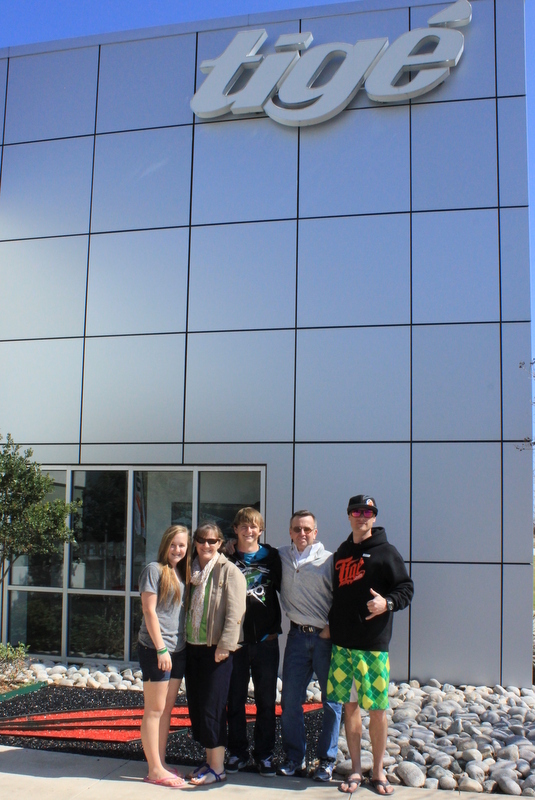 "I spent about a year looking at boats. I came about Tige and began the "Build-A-Boat" process on Tige.com and realized I really liked all of the features that Tige offered and I loved the tower that Tige had. I did my research and read online reviews and saw nothing but positive reviews from Tige owners," stated Bob. "I got in contact with Waterski Specialty out of Denver and began looking on their website at their stock boats. I actually spotted my very first Tige on the Waterski Specialty Website, and when I went to the showroom I knew it was exactly what I wanted when I crawled in it."
The Concienne family goes to Boyd Lake in Loveland, Colorado just about every weekend during the summer. Actually last year, they only missed one weekend! No matter the temperature, you can be sure to find them out on the water beginning in March or April until October (depending on that cold Colorado weather!)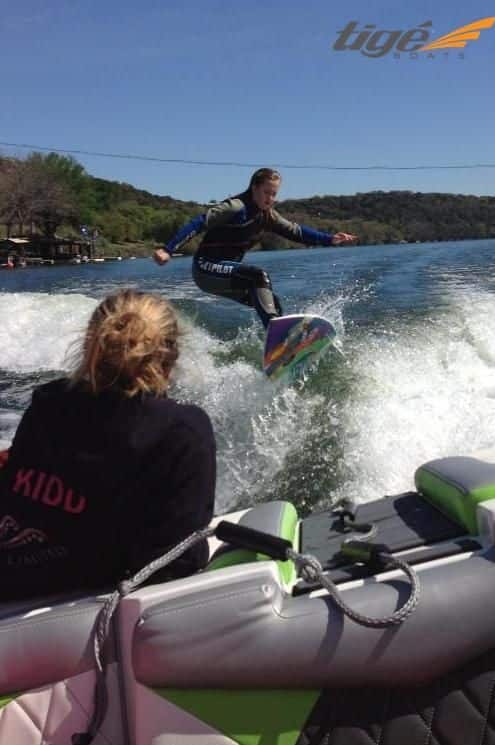 Jennifer Concienne has caught the wakesurf fever and this will be her first year to compete in competitions. She will be at 4 of the 5 Endless Wave Tour stops along with other competitions.
When asked why they love watersports and their Tige so much, their answer was simple:
"There is something for everyone to do on a boat... Watersports are universal. We get to have fun and spend a lot of family time on our Tige. Waterski Specialty is a top-notch dealership. There is no better representative than Bill, Nick, Whitney and Donna. Nick even came by our house personally to pull plugs on our boat last year. Ashley Kidd has been fantastic help for Jennifer as she grows in wakesurfing. We admired Ashley's riding style, so we personal messaged her on Facebook and decided to set up this time this week to take lessons with her on Lake Austin, which is actually a Christmas present to Jennifer. Everyone we have met that is connected with Tige has been awesome."