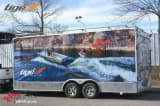 The Roots of Tigé Boats #1 Dealer: Hyperactive Watersports
Our passion for watersports and the products that "put the fun into boating" has never faltered, and for many years we have held the distinction of being Canada's Largest Volume Dealer of Waterski and Wakeboard equipment. Tige Boats and our boat service facility were added to our product mix back in 2001 and in 2010 we earned the honour of becoming the largest volume Tige Dealer on the planet!
The roots of Hyperactive started in the summer of 1982. I was attending the University of Calgary at the time and I had just learned to slalom ski at a small lake near Sundre, Alberta. I had grown up working around automobiles at the family owned gas station (remember those? Where they actually gave service and fixed things) Water-skiing was the perfect combination of machines with plenty of horsepower and exhilarating physical activity. Boating would have been dull if it had not been for the thrill of learning to cut harder at increasing speeds and shorter rope lengths. Learning to waterski led to owning my first used boat, an outboard powered 16 footer that developed serious hull cracks during my first summer of ownership.
That lesson of "Buyer Beware" led to a hands-on education in hull disassembly, stringer design, fiberglass application, and hull assembly. Of course, the first "project" boat led to dreams of owning a true inboard ski-boat.
Reaching that goal in 1989 led to working at the Calgary Boat and Sportsmen's Show in 1991 where I met Paul and Murray Fraser, owners of High Output Sports, the HO water-ski distributorship for Canada. Without a business card or a business name, I became a local rep for their products quite literally from the back of my van.
In 1992 at the Seattle Boat Show, I saw some of the very first Tige Boats produced by a brand new company with big ideas. There I also met Herb O'Brien, arguably the most influential individual in the watersports business to this day. That trip set the wheels in motion and on November 30, 1992, I quit my office job and Hyperactive Watersports was officially born.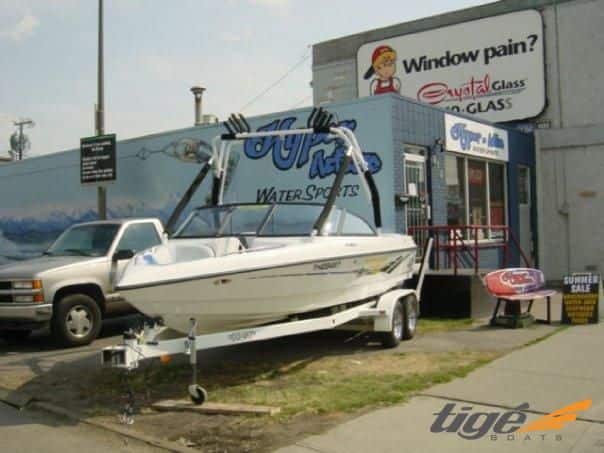 Hyperactive Pro-Shop Location circa 2001
That date is almost exactly 21 years ago and during that time numerous marine shops in Alberta have come and gone. Thanks to a great number of people that have passed through the doors of Hyperactive Watersports to volunteer, be employed, provide products, give advice, and of course become our loyal customers, we have been able to build a business that has succeeded where others have so often failed. Really, selling boats and water-skis in a locale with such a painfully short summer and a location that features almost no lakes within several hours of driving, just isn't the most sound business plan ever proposed! But at Hyperactive we have always been passionate about boats and watersports, and that passion has overcome plenty of adversity business-wise. The surprise over the years continues to be just how many other people and their families are as passionate about their boats and watersports as we are!
From water-skis, through the rise in popularity of wakeboarding, and now on to wakesurfing, we at Hyperactive have enjoyed every minute of the journey to the present. When I look through all of the old photographs (pre-digital camera ones too), I realize just how many boat shows, waterski camps, wakeboard contests, store openings, and new beginnings we have seen over the past twenty plus years.
Our commitment to serving our customers needs for their boat's and equipment is stronger than ever. As Tige Boat's #1 volume dealer for 2010, 2011, and 2012, we look forward to another decade of representing their superior line of towboats. It is a breath of fresh air as we move from the fun yet "maturing" sport of wakeboarding to the growing watersports activity of wakesurfing. Slalom Skiing lives on, wakeboarding is still a great sport, but thanks to wakesurfing and progressive companies like Tige, we have a whole new sport to keep us excited about driving to the lake as much as possible during our oh-too-short-summers. Think summer!
Hyperactive Watersports is planning the opening of a brand new on the water location, Hyperactive Marina and Pub, in Chestermere, AB for May 2013. This will be the fifth Hyperactive Watersports location in Alberta and British Columbia.