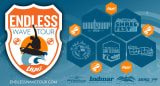 The Tige Endless Wave Tour is going big in 2014!
Bringing fierce competition and family fun, Tige's Endless Wave Tour is bringing back the good times for 2014. With five stops spreading across US and Canada, the Endless Wave Tour is the perfect place for wakesurfers of all ages, and skill levels, to be a part of the wakesurf revolution.
The tour offers a complete boating experience, starting off each stop with wakesurfing pro training sessions and demos. At the demo day, riders will be able to test the unrivaled Tige wave, along with latest in wake surfer products. Tige pros and others will be on hand to help any rider improve their skills heading into a weekend of competition that everyone can enjoy. The weekend contest has both amateur and pro level categories, all competing behind Convex VX equipped Tige's models.
"Wakesurfing has needed a true grass-roots series to get people involved in the biggest sport to happen behind our boats," stated Rick Correll, President of Tige Boats. "The Endless Wave Tour creates that opportunity and gives every level of wakesurfer a place to ride, compete, and live the sport."
Join the fun at the following EWT events:
West Coast Wakesurf Open. May 28 – June 1. Camp Far West Lake. Wheatland, CA
WWS Summer Shredfest. June 19-22. Horsetooth Reservoir. Fort Collins, CO
Wake the Desert. July 17-20. Lake Nasworthy. San Angelo, TX
Seca Surf Sessions. August 1-3. Wood Lake. Kelowna, BC
Texas Surf Showdown. August 22-24. Marine Creek, Fort Worth, TX
Registration for all five events is now available at endlesswavetour.com. To be eligible to win the EWT Championship, riders must register and compete in at least four of the EWT events. The rider with the most points accumulated in their division will be named the EWT Champion.
The Endless Wave Tour is partnered by: Wake9, Indmar Marine Engines, Wet Sounds, ZeroOff, PTM Edge, California Marine Sports, Wakeboard and Waterski Specialty, Family Powersports, Seca Surf Shop and Eagle Marine. To sponsor the Endless Wave Tour or any of the local events, please email info@tige.com. For further EWT updates, 'like' the Endless Wave Tour on Facebook.