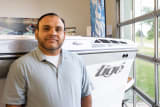 TIGÉ BOATS, INC. ANNOUNCES PROMOTION OF WALO MELENDEZ
ABILENE, TX --- Tigé Boats, Inc. is pleased to announce the promotion of Walo Melendez to Director of Operations for Tigé Boats and ATX Surf Boats. Melendez first joined Team Tigé almost 23 years ago and has excelled through every career opportunity presented to him. Melendez most recently served as Director of Manufacturing.
"Walo's passion for boat building is evident through his work ethic," stated Charlie Pigeon, Founder and CEO of Tigé Boats, Inc. "With Walo's guidance and leadership, Tigé's production line is a first-class and seamless process; I have no doubt that he will excel in expanding his new role of Director of Operations and continue providing high-quality products."
Over the course of his career, Melendez has contributed to the success of Tigé in many ways, including streamlined manufacturing capabilities, efficiencies on the line, increased employee morale, and is a strong team player in new product development. Melendez has created a strong foundation and very skilled team for continued excellence in manufacturing and product quality. In addition to his responsibilities over the Tigé Boats and ATX Surf Boats production lines, maintenance, and safety, he now oversees materials, purchasing, and boat loading.
"I couldn't ask for a better team to work alongside, they're passionate about their jobs and work hard to build the best boats in the world," stated Melendez. "Our manufacturing process is unique to other brands in the inboard segment. Tigé Boats and ATX Surf Boats are not mass produced, so being able to devote more time and energy into each boat that goes down the line makes our jobs that much more special, and it delivers the best possible boating experience to our customers."