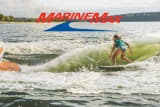 Tigé Boats added to select MarineMax stores
By MarineMax -- MarineMax has added Tigé Boats to its lineup of premium brands at store locations in Georgia, Oklahoma, and Orlando, Fla.
The Tigé product line is now available at:
"We are ecstatic to welcome Tigé Boats to our lineup as MarineMax continues to grow. This is a fantastic opportunity for our boating community to discover the innovation and quality that Tigé Boats takes pride in," said Mike Criswell, MarineMax Cumming general manager.
"We are excited to be working with Tigé Boats. This is a wonderful opportunity for their models to be seen and experienced by a wider audience," said Phillip Davidson, MarineMax Orlando general manager.
Launched in 1991, Tigé Boats have remained a family-owned business since the beginning. Tigé is one of the fastest growing brands of inboard wake/surf boats.
"Tigé Boats are great boats, and we are so happy to have this well-respected brand at our store. We invite you to stop by and view these beauties in person," said Zane Stevenson, MarineMax Buford store manager.