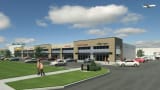 TIGE BOATS AND SECA SURF + MARINE MAKE THE MOVE INTO CALGARY
With a wave of success in Lake Country, British Columbia, Seca Surf + Marine is excited to open the doors of their second location in Calgary, Alberta this Spring. Seca Surf + Marine is an exclusive Tige Boats dealer, being named 'New Dealer of the Year' in 2014. Seca, along with Tige and Seca Team riders Aaron Rathy and Emily Agate, will debut the 2015 Tige lineup at the Calgary Boat Show on February 5-8, 2015.
"We are very proud of what we have accomplished so far. The addition of the new location in Calgary is an opportunity we are over the moon excited about as the two territories compliment each other so well," stated Kris Killick, Co-Owner of Seca Surf + Marine. "We are very familiar with the city as both Sean and I lived and worked in Calgary prior to starting Seca in 2008. It's exciting to be able to get back into that territory and share the #TigeLove the Seca way!"
Representing Tige Boats, Seca's new location in Calgary will offer everything you need for a perfect day on or off the lake. Seca will service, maintain, repair and store your boat anytime of year, and will also offer the most unique Boutique Surf shop experience in the game, regardless of the season!

SECA SURF + MARINE - CALGARY
620 46th Avenue NE, Calgary, Alberta
www.secamarine.com
sales@secamarine.com // kris@secamarine.com
SECA SURF + MARINE - LAKE COUNTRY
11410 Petrie Road, Lake Country, B.C. V4V 1H8
Toll Free: (877) 857.SECA (7322)
www.secamarine.com
sales@secamarine.com // kris@secamarine.com