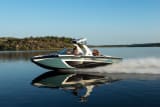 Tige Boats Announces New California Dealer
ABILENE, TX – Tige Boats is pleased to announce that ASFB Marine has joined the family of Tige Dealers. ASFB Marine will present the 2016 Tige Lineup at the Sacramento Boat Show on March 10-13. ASFB Marine will service Northern to Centrally located cities in California, also including Lake Folsom and Lake Tahoe.

ASFB's goal has always been to expand into the Inboard boat market and continue to provide premier sales and service in Northern California. "With lakes filling up in the area and our success in selling inboards over the past eight years, we are excited to meet and serve current and future Tige owners," said Harmon Ackerman, Owner of ASFB. Harmon grew up actively wakeboarding and waterskiing at the CSUS Aquatic Center in Sacramento. "Joined with Tige's leading innovation and versatility, my team and I have the drive to create a significant growth in the Sacramento Valley wake boat market."
Tige Boats is represented by a world-wide dealer network. Dealership opportunities continue to be available both in the US and internationally to those dedicated to carrying on the Tige legacy and commitment to customer service to Tige customers.
ASFB Marine
8935 Fruitridge Rd | Sacramento, CA 95826
www.asfbmarine.com
P: (916) 737-2628
info@asmallfishingboat.com