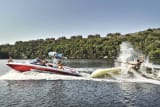 Tige Boats Announces New Dealer in Alabama
Tige Boats is pleased to announce that Fredricks Outdoor has joined the worldwide network of authorized Tige dealerships.
Located in Decatur, Alabama, Fredricks Outdoor serves counties in Northern Alabama, covering Wheeler Lake, Lewis Smith Lake, Neely Henry Lake, Jordan Lake, Mitchell Lake, Lay Lake, and Martin Lake. Fredricks Outdoor is the latest dealership to join Tige, who has recently introduced their 2016 models, which includes the all new R-Series.
"Everyone at the dealership is extremely impressed with the Tige product and we are excited to add this versatile watersports boat to our showroom", said Tom Fredricks owner of Fredricks Outdoor. "We look forward to meeting and serving existing and future Tige owners of Alabama."
Fredricks Outdoor is a family-owned dealership and has a long successful history serving Alabama. The principals of honesty and reliability are customary in the way they run their business and are applied both to the people who work at the company and their customers. Mark your calendar for October 31, 2015 as Fredricks Outdoor will host their legendary Fall Festival. Plan to stop by to check out their Tige's and meet their team.

Contact Info: Fredricks Outdoor
1312 South Bethel Rd.

Decatur, AL 35603
256-340-8899
http://www.fredricksoutdoor.com
info@fredricksoutdoor.com