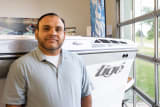 Tige Boats Announces Promotion of Walo Melendez
Tige Boats is pleased to announce the promotion of Walo Melendez to Director of Manufacturing. Melendez first joined Team Tige over 21 years ago, excelling through every career opportunity presented to him.
"Tige's product quality, factory moral, and efficiency has never been better thanks to Walo's commitment," stated Charlie Pigeon, Founder and CEO of Tige Boats. "His passion for boat building is evident through his work ethic, and it carries through to every member of his team. His knowledge and experience is invaluable to us, but most importantly, to our customers."
Over the course of his career, Melendez has contributed to the success of Tige in many ways, including streamlined manufacturing capabilities, efficiencies on the line, increased employee moral, and is a strong team player in new product development. Melendez has created a strong foundation and very skilled team for continued excellence in manufacturing and product quality.
Melendez gives all his success to his team. "They are committed to building the best boats in the world, and I enjoy working alongside with them and challenging them to new levels," stated Melendez. "I would like to thank everyone at Tige Boats for supporting production in their own way, as without them none of this would be possible. I want to give a huge thank you to the Pigeon Family for giving me the opportunity to do what I love. Charlie, Blake, and Ben, thank you for the opportunity to build my career with such a prestigious company. Our customers deserve the very best in our product and our intentions are to deliver the best boating experience."