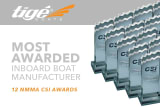 TIGE BOATS CELEBRATES 12 YEARS OF AWARD-WINNING CUSTOMER SATISFACTION
We are proud to once again receive the National Marine Manufacturers Association's (NMMA) Customer Satisfaction IndexAward. The CSI Award is presented to the marine industry's top manufacturers that actively measure customer satisfaction and pursue continuous improvement to better serve their customer. This is the 12th CSI Award for Tige to receive. No other inboard manufacturer has won this award more than Tige Boats.

"There's no greater feeling than knowing we've earned the trust and loyalty of our customers. We find pride in building best-in-class boats that continually exceed our customer's expectations," said Charlie Pigeon, Founder and CEO of Tige Boats. "Customer satisfaction has been, and always will be, our #1 priority. We're excited to see that winning this award is in line with the feedback and reviews that we receive from customers on the Internet."

The Marine Industry CSI Award recipients have achieved and maintained an independently-measured standard of excellence of 90 percent or higher in customer satisfaction over the past year, based on information provided by customers purchasing a new boat or engine during the period between January 1, 2016 and December 31, 2016.