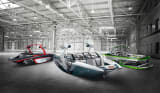 Tige Boats Continues Engineering Excellence with New Head of Product Development and Engineering
Tige Boats continues its pursuit of excellence in 2015 with the restructure of its Product Development & Engineering team. Rising to a leadership role, Eddie Guglielmetti has been named Head of Product Development and Engineering. Over his twenty years at Tige Boats, Guglielmetti has gained a broad range of experience and an impressive history of contributions to many industry firsts, including TAPS/TAPS2, V-Drive watersport boats, 102" wide beam inboards, Z Series hull design, and the all new AVX Surf System with the Surf Link™ remote, making him the ideal selection to lead Tige's future engineering objectives.
"We are unleashing the most capable team in the world. Eddie's contribution and ingenuity has already made a significant impact on not only the Tige product line, but the inboard industry as a whole," said Charlie Pigeon, Founder and CEO of Tige Boats. "I am confident that we are on the fast track to introducing exciting, innovative and value oriented products that reflect the Tige values at its core."
The new Tige Product Development & Engineering Team is a unique team of free-thinking professionals that have a true passion for the growth and progression of the watersports industry. By combining talent, dedication, aesthetic visions, and lean manufacturing efficiencies, Tige is locked and loaded for an exciting 2016 model year.