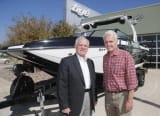 Tige Boats Featured in The Dallas Morning News
Tige Boats' founder and CEO, Charlie Pigeon, was featured in The Dallas Morning News this morning for being one of the many business owners that have made the move to Texas.
The Dallas Morning News: Abilene is hot destination for relocating companies
As we all know, Dallas has become the promised land for companies fleeing high costs and taxes. But Abilene, a city of 118,000 that's 180 miles due west of Big D, is on a roll of its own.
A South American food giant is building a $30 million plant expansion to add crackers to its product line. A California plastics company is setting up a $63.2 million facility to turn old water bottles into new for Nestle Waters' nearby Ozarka plant. Tige Boats is thriving here.
OK, so adding 55 people for a new saltine cracker line is not 4,000 Toyota jobs moving to Plano. But it's more than crumbs to this city in West Texas, Mayor Norm Archibald says. "Not every company wants to be in a big metropolitan area. Companies that don't want to come your way, we're more than happy to take our way."
The sales pitch is simple. Abilene — the same size as Frisco — has everything a company needs for a relocation or expansion: a capable, less expensive labor pool, comfortable living and a strong business support system.
Archibald says he and his wife frequently come to the Dallas area to shop, visit a museum or attend a Cowboys or Rangers game and get back in time to sleep in their own bed — at least for a few hours.
"Abilene has everything we need. But Dallas has some things that we like," Archibald says. "We can leave work in Abilene at about 4 o'clock, get to the Rangers game that night and be back at work the next morning at 8 o'clock. And we don't think twice about it."
And there's one thing Abilene has that Dallas doesn't.
"We're the home of the 10-minute rush hour," says the 63-year-old mayor, who's lived in Abilene for 40 years.
And you don't have to make a three-hour trek to Big D for entertainment.
In 1982, Abilene became the first Texas city to create a downtown reinvestment zone. The cornerstone project was renovating the Paramount Theatre to its 1930s splendor. Rated as Abilene's top tourist attraction, it shows classic movies and has live performances.
Starting Friday, it will host Abilene's 16th annual international short-film festival, which drew 3,500 entries, says Jason Smith, president of the Abilene Chamber of Commerce.
Focus on diversifying
Abilene, the wind energy capital of North America, is shoring up its water resources to handle growth.
By January, it will be replenishing a third of its annual water needs with treated effluent water, Archibald says. "We've spent about $65 million making that project work. I believe that this will be what every city is doing sooner or later."
Abilene knows the importance of diversifying its economy from its agriculture, energy and military core.
Ag is always iffy. The oil boom went to bust. And Dyess Air Force Base, a home base of the B-1B bomber, lives under continual threat of cutbacks or closure. The next round of base reductions could come as early as 2016, Archibald says. "While Dyess is our largest employer and the biggest economic driver in the community, we can never take that for granted. Supplementing it with other economic drivers is crucial," he says.
In 1989, Abilene did another "Texas first" by earmarking a half-cent sales tax for economic development after the oil industry cratered.
It used money from that fund to lure Tige from California in 1994. Since then, Tige has grown from a handful of people in a metal building to a state-of-the-art complex that employs 150.
Its high-end wakesurf and wakeboard inboard motor boats cost $50,000 to $135,000 and are sold around the globe. It just opened a dealership in Dubai.
The name is a play on founder Charlie Pigeon's childhood Tiger nickname. He thought the accent mark gave it a European twist.
He gets asked all the time why he moved to West Texas.
"I've been trying to get the area renamed Midwest Texas. If you look on a map, it's really more mid than west. And there are three lakes here," the 62-year-old says a bit defensively.
"I have a home on a lake, so there's a bit of a misunderstanding. We have to test every single boat before we ship it, so it's important that there's water close to us."
Quick response
Pigeon started his company in 1991 in Merced, Calif. When the economy improved, he outgrew his facility and sent out feelers for moving away from the West Coast. Abilene was quick with its response, sending a team to his doorstep.
He checked out the city and found good schools for his two boys, a home he could buy for $1,000 a month, no state personal or corporate income taxes, a friendly and safe community and a labor pool with a strong work ethic.
Abilene's development corporation offered help with moving expenses and fixing up an empty bakery.
"And for the first year, any person in the greater Abilene area who I would train to build boats, they [the city] would pay half of their salary," Pigeon says. "I wanted to start clean and train people properly from the get-go and develop a culture where people could build good careers. It worked out really well."
Abilene is about to dot the i's and cross the t's on a deal with CarbonLITE Industries, based in Los Angeles and one of the world's largest recyclers of plastic beverage bottles, says Kent Sharp, CEO of the Development Corp. of Abilene.

Abilene is giving CarbonLITE a $6.2 million incentive package, paying $11.8 million to finish out an existing 100,000-square-foot facility and adding 110,000 square feet of office and warehouse space. CarbonLITE will lease the space with an option to buy it. CarbonLITE has promised to spend at least $35 million to equip the plant, which will be worth $63.2 million when it's up and running.
South American food giant Grupo Nutresa bought out a local cookie maker four years ago and changed its name to AbiMar Foods Inc. last month.
When it decided to expand into crackers last year, it considered other Texas options but decided to keep everything in Abilene, says Patricia Canal, AbiMar's 46-year-old CEO. Canal, who has worked for Grupo in Colombia for 15 years, moved to Abilene five months ago. She admits it's been a bit of a culture shock.
"I tell people that life there is much more peaceful," she says. "So I'm getting stress levels down, which is very good. But yes, it is very different."
One can only imagine.