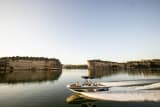 TIGE BOATS INC. ANNOUNCES AVALANCHE MOTORSPORTS HAS JOINED THEIR WORLDWIDE DEALER NETWORK
Abilene, TX -- Tige Boats Inc. is pleased to announce Avalanche Motorsports has joined their worldwide family of dealers. As a dealership specializing in premium products and an excellent customer experience, adding the Tige and ATX brands to the Avalanche Family was a natural fit.
"We are really excited about the Tige and ATX lineup. We all grew up here riding behind older modified ski boats, so seeing and using the technology and capabilities of the GO Surf System is incredible," says Ross Mills, Operations Manager at Avalanche. "We look forward to watching our customers create the same memories behind their Tige or ATX. We are excited to carry Tige and ATX which is a new growing market in Coastal NC."
Avalanche Motorsports is located in Washington, North Carolina, in close proximity to the beautiful Pamlico and Neuse Rivers, as well as Lake Gaston. It has been owned and operated by the Myers family since 2005 founded on hard work, understanding their customers' needs and wants, and striving to make the entire process as easy as possible with zero pressure.
Tige Boats Inc. is represented by a worldwide dealer network. Dealership opportunities continue to be available both in the U.S. and internationally to those dedicated to carrying on the Tige legacy and commitment to customer service to Tige customers. Stop by Avalanche of Washington to explore the lineup of Tige and ATX boats, from the Tige 25ZX through the ATX 20 Type-S.
Avalanche Powersports
2287 W 5th Street
Washington, NC 27889
252-946-0920
https://www.avalanche-motors.com/
Tige Boats, Inc. is a world-renowned innovator, designer, and manufacturer of high-performance inboard boats. Celebrating their 30th anniversary, Tige has cultivated its iconic brand image through their industry-leading innovation, luxurious diamond-stitched interiors, and multisport versatility. From their world-class manufacturing facility and across the 2022 product line, Tige's consistent design-driven mentality has refined the marketplace while forever intensifying the love for wakesurfing, wakeboarding, and waterskiing. Experience the 2022 Tige and ATX lineups now at TIGE.COM / ATXBOATS.COM