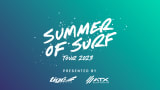 Tige Boats, Inc. Announces Exclusive Summer of Surf Tour
ABILENE, TX --Tige Boats, Inc. is excited to announce its exclusive Summer of Surf Tour, which will make six stops across North America. The Summer of Surf Tour will offer an immersive experience -- promoting the growth of watersports, introducing new boaters to wakesurfing, and allowing attendees to get to know the 2023 Tige and ATX lineups like never before.
At Summer of Surf, attendees will get to experience the powerful performance, comfort, and versatility of Tige and ATX in the best way possible—by experiencing them firsthand. Guests can sit behind the wheel and explore Tige and ATX's award-winning features and capabilities. At each stop, there will be an opportunity to meet and ride with professional wakesurfers, wakeboarders, and other industry professionals so that attendees can learn from the best. Whether someone is learning to surf, considers themselves a pro, or somewhere in between, they can get behind the boat and discover the thrill of riding a Tige and an ATX wave. Rounding out the experience, there will be entertainment, giveaways, free food, and a chance to win an all-inclusive VIP package.
"As Tige and ATX become increasingly popular on the water, Summer of Surf is a great opportunity to showcase the latest and greatest technology, quality, and performance of the 2023 models. This gives our future customers the opportunity to experience firsthand what it's like being on the water to see for themselves the many features and benefits that set our boats apart from the competition," said Charlie Pigeon, Founder and CEO of Tige Boats. "We're excited to hang out with boaters across the nation, share our love for watersports, and help others get out on the water."
The Summer of Surf Tour kicks off on April 28th in Orlando, FL. Participants can register now to join the tour. Check out the tour dates and locations below to see if Summer of Surf is coming to a lake near you.
Orlando, FL | April 28, 2023 | MarineMax
Austin, TX | May 6, 2023 | NXTLVL Marine
St. George, UT | May 12-13, 2023 | Germaine Marine
Atlanta, GA | June 3, 2023 | MarineMax
Nashville, TN | June 17, 2023 | Nashville Boating Center
Detroit, MI | June 24, 2023 | Aqua Sports Marine
Tige Boats, Inc. is a world-renowned innovator, designer, and manufacturer of high-performance inboard boats. Celebrating their 32nd anniversary, Tige has cultivated its iconic brand image through their industry-leading innovation, luxurious diamond-stitched interiors, and multisport versatility. From their world-class manufacturing facility and across the 2023 product line, Tige's consistent design-driven mentality has refined the marketplace while forever intensifying the love for wakesurfing, wakeboarding, and waterskiing. Experience the 2023 Tige and ATX lineups now at TIGE.COM / ATXBOATS.COM.