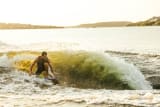 Tige Boats Inc. Announces Johnny K's Powersports has Joined their Worldwide Dealer Network
Abilene, TX -- Tige Boats Inc. is pleased to announce Johnny K's Powersports has joined their worldwide family of dealers. As a dealership specializing in premium products and an excellent customer experience, adding the Tige and ATX brands to the Johnny K's Family was a natural fit.
"As a family-owned and operated business, what better way for us to bring customers into our dealership family than to give them an experience they can enjoy with their own! There's no better feeling than spending a weekend on the water with the whole crew. The same joy and happiness we have every time we are out is something that Tige and ATX will be able to bring to you and your family," says John Kalogerou, Owner of Johnny K's Powersports group. "It is our privilege to offer one of the best wake boats on the market, and to be able to back it up with our awesome staff, beautiful facility, and unique customer experience is what makes this such a great partnership."
Johnny K's Powersports of Elyria is conveniently located near Lake Erie and many great watersports lakes such as Lake Milton, Berlin Lake, Mosquito Lake, and Sandusky Bay, all within an accessible distance away while servicing all of the Northern Ohio areas.
Tige Boats Inc. is represented by a worldwide dealer network. Dealership opportunities continue to be available both in the U.S. and internationally to those dedicated to carrying on the Tige legacy and commitment to customer service to Tige customers. Stop by Johnny K's Powersports of Elyria to explore the lineup of Tige and ATX boats, from the Tige 25ZX through the ATX 20 Type-S.
Johnny K's Powersports
3000 Midway Mall
Elyria, OH 44035
216-433-9011
https://johnnykspowersports.com/
Tige Boats, Inc. is a world-renowned innovator, designer, and manufacturer of high-performance inboard boats. Celebrating their 30th anniversary, Tige has cultivated its iconic brand image through their industry-leading innovation, luxurious diamond-stitched interiors, and multisport versatility. From their world-class manufacturing facility and across the 2022 product line, Tige's consistent design-driven mentality has refined the marketplace while forever intensifying the love for wakesurfing, wakeboarding, and waterskiing. Experience the 2022 Tige and ATX lineups now at TIGE.COM / ATXBOATS.COM