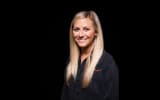 Tige Boats, Inc. Announces Promotion of Anna Henderson to Corporate Relations Manager.
ABILENE, TEXAS -- Tige Boats, Inc. today announced the promotion of Anna Henderson to Corporate Relations Manager. Henderson joined Tige Boats in 2015 as Marketing Coordinator and most recently served as the company's Marketing Manager.
"Anna has already made large contributions to building our brand reputation. Her attention to detail, communication talents, and long-standing relationships with our dealer network will continue to grow and maximize her history with the company," stated Charlie Pigeon, CEO and Founder of Tige Boats, Inc. "Boating is not only part of her work life but a huge part of her family life. Anna is the perfect fit to continue to execute our strategic purpose."
In her new role as Corporate Relations manager, Henderson will play an instrumental role in cross-departmental reporting, market analysis, event planning, and the annual strategic planning process for better business health. In addition, her new role will also involve regular communication with our dealer network and community.
Henderson brings seven years of marketing and communications experience. Before this promotion, Henderson helped bring the Tigé and ATX brands to life by supporting various digital marketing initiatives, email campaigns, monitoring content calendars, and expanding Tige and ATX's full customer lifecycle experience. Henderson, based in Abilene, TX, will report to Tige Boats President Daniel Gutierrez.

Tige Boats, Inc. is a world-renowned innovator, designer, and manufacturer of high-performance inboard boats. Celebrating their 31st anniversary, Tige has cultivated its iconic brand image through their industry-leading innovation, luxurious diamond-stitched interiors, and multisport versatility. From their world-class manufacturing facility and across the 2023 product line, Tige's consistent design-driven mentality has refined the marketplace while forever intensifying the love for wakesurfing, wakeboarding, and waterskiing. Experience the 2023 Tige and ATX lineups now at TIGE.COM / ATXBOATS.COM