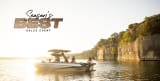 Tige Boats, Inc. Announces the Season's Best Sales Event
Abilene, TX -- Tige Boats Inc. is bringing the heat this holiday season with the Season's Best Sales Event! From November 17 through December 31st, 2022, Tige Boats is offering up to $6,000 off on 2023 models, and ATX Surf Boats is offering $1,500 off 2023 models.*
It's always early enough to start planning for next summer. Whether you are interested in Tige's flagship ZX Class or ATX Surf Boats' sporty and slick style, your new boat will deliver epic waves, good times, and memories that will last a lifetime. They're the boats you've wanted, the excuses you've needed, and the sales you don't want to miss out on.
Tige Boats launched into a new era of innovation, luxury, functionality, and convenience for the 2023 model year. For 2023 Tige released the all-new and award-winning Alpha E3+ powered tower with SolidShade, Audison Pro Audio -- a luxurious new audio system, Alumina Wheel with Smart2 technology, enhanced interior designs, an updated reversible seat with table option, additional gel coat, and vinyl color options, and a fresh look for Indmar Engines.
ATX brought more power, more style, and more functionality for 2023 to amplify your experience on the water. ATX was most proud to introduce the first all-powered, standard, Type-E Electric Tower to its segment. Among the Type-E Tower, ATX Surf Boats designed an all-new interior, new gel coat and vinyl colors, a new windshield design, a cosmetic overhaul on the Indmar Raptor Engine, and fresh metal finishes that perfectly compliment the overall look.
Tige and ATX's key differentiators include the patented Convex V Hull and the GO System™ powered by TAPS 3T. The GO System is the most progressive, versatile technology to ever hit the water. Whether you're surfing, wakeboarding, skiing or just cruising the lake, just push 'GO' and your settings will automatically dial in. While working in tandem with industry leading technologies such as the intuitive touch screens, smart wheels, and Raptor Series by Indmar, Tige and ATX are sure to outperform every other boat on the water.
2023 Tige Boats and ATX Surf Boats are in dealerships worldwide, making waves with their powerful performance, and demanding new looks. Explore 2023 Tige and ATX Boats online now, then experience one for yourself at your local dealership.
*See dealer for details. Available for 2023 Tige and ATX models and in participating dealerships in the US and Canada only. To qualify, boats must be registered by December 31, 2022.