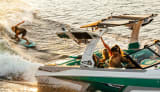 TIGE BOATS INC. ANNOUNCES YOUNG HARRIS WATERSPORTS & RV HAS JOINED THEIR WORLDWIDE DEALER NETWORK
Abilene, TX -- Tige Boats, Inc. is pleased to announce Young Harris Watersports, and RV has joined their worldwide family of dealers. With a focus on next-level customer experience and award-winning customer service, Young Harris is the perfect fit to service current and future Tige owners in Lake Country, Georgia, serving Lake Oconee and Lake Sinclair.
Young Harris strives to make each customer feel like family and goes above and beyond to make the entire experience first-class and enjoyable. They break the mold of executing for the customers' benefit, "It's like shopping with the family. Whether coming in on a Sunday to show a boat or meeting a customer hours away to deliver the product, my staff is always available. Service is always a call or text away as well", states owner Lance Markham.
"We pride ourselves on carrying industry-leading brands and are excited to welcome Tige and their long heritage of world-class surf boats," Markham added.
Tige Boats Inc. is represented by a worldwide dealer network. Dealership opportunities continue to be available both in the U.S. and internationally to those dedicated to carrying on the Tige legacy and commitment to customer service to Tige customers. Stop by Young Harris Watersports and RV to explore the lineup of Tige and ATX boats, from the Tige 25ZX through the ATX 20 Type-S.
Young Harris Watersports and RV
804 Harmony RD
Eatonton, GA 31024
706-851-2053
yhmarineandrv.com
Tige Boats, Inc. is a world-renowned innovator, designer, and manufacturer of high-performance inboard boats. Celebrating their 31st anniversary, Tige has cultivated its iconic brand image through their industry-leading innovation, luxurious diamond-stitched interiors, and multisport versatility. From their world-class manufacturing facility and across the 2023 product line, Tige's consistent design-driven mentality has refined the marketplace while forever intensifying the love for wakesurfing, wakeboarding, and waterskiing. Experience the 2023 Tige and ATX lineups now at TIGE.COM / ATXBOATS.COM