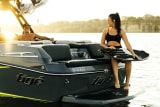 Tige Boats Inc. is Pleased to Welcome Land O' Lakes Marine to their Worldwide Dealer Network
Abilene, TX -- For 25 years, Land O' Lakes Marine has been serving the Tampa boating market with a mix of freshwater and saltwater boating options. Land O' Lakes Marine is located on beautiful Lake Padgett and caters to all Pasco and Hillsborough county boat owners. They strive to create long-term relationships with their customers and have added Tige Boats and ATX Surf Boats to their line-up.
"We are super excited to be joining the Tige/ATX family. Tige's ability to build such a high-quality boat full of industry-leading technology like the Go System at an unbelievable price point made adding the brand a No-Brainer for us! There is also no denying the Tige/ATX product line offers some of the best-looking towboats on the water today!"- Dave Hipps, Owner of Land O' Lakes Marine
Tige Boats Inc. is represented by a worldwide dealer network. Dealership opportunities continue to be available both in the U.S. and internationally to those dedicated to carrying on the Tige legacy and commitment to customer service to Tige customers.
Land O' Lakes Marine
3208 Land O' Lakes Boulevard
Land O' Lakes, FL 34639
https://www.landolakesmarine.com/
813.909.9200
Tige Boats, Inc. is a world-renowned innovator, designer, and manufacturer of high-performance inboard boats. Celebrating their 30th anniversary, Tige has cultivated its iconic brand image through their industry-leading innovation, luxurious diamond-stitched interiors, and multisport versatility. From their world-class manufacturing facility and across the 2022 product line, Tige's consistent design-driven mentality has refined the marketplace while forever intensifying the love for wakesurfing, wakeboarding, and waterskiing. Experience the 2022 Tige and ATX lineups now at TIGE.COM/ ATXBOATS.COM