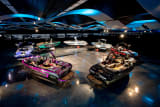 TIGE BOATS, INC. RELEASES VIRTUAL EXPERIENCE FOR 2022
Abilene, TX – Last year, Tige Boats, Inc. launched the next-gen and first of its kind, Virtual Experience to boaters worldwide. Tige Boats and ATX Surf Boats are excited to announce that the Virtual Experience is back for 2022, boasting more information than ever and the addition of two new boats to the Tige fleet. The Virtual Experience takes a traditional boat show or showroom and transforms it into an innovative online platform that assists you in choosing the perfect boat for your family or lifestyle.
"The Tige and ATX Virtual Experiences are a world-class tool that not only consumers can use, but our dealerships use as well," stated Charlie Pigeon, Owner and CEO of Tige Boats, Inc. "Every walkthrough video is meticulously thought out and placed so that anyone using the platform can receive the best quality of information possible. Our goal was for a user to be able to gather an adequate amount of research and be able to make a purchase decision without ever having to leave their home."
The Virtual Experience is a 4K, 3D showroom that allows users to immerse themselves as if they saw it in person. It will enable consumers to conduct an adequate amount of research before advancing their purchase decision by providing a unique and in-depth look of every Tige and ATX model side by side, including walkthrough videos from Tige's top product professionals. Each boat offers four short videos highlighting that model's features -- these include overviews of the boat's specifications, storage, interior, and helm. Users can also learn more about the award-winning GO System powered by TAPS 3T, Alpha E3 tower options, Indmar Raptor Engines, and the patented Convex V Hull.
Both Tige Boats and ATX Surf Boats display their own designated showrooms. Immerse yourself in the Virtual Experiences here: Tige Boats Virtual Experience / ATX Surf Boats Virtual Experience
Tige Boats, Inc. is a world-renowned innovator, designer, and manufacturer of high-performance inboard boats. Celebrating their 30th anniversary, Tige has cultivated its iconic brand image through their industry-leading innovation, luxurious diamond-stitched interiors, and multisport versatility. From their world-class manufacturing facility and across the 2022 product line, Tige's consistent design-driven mentality has refined the marketplace while forever intensifying the love for wakesurfing, wakeboarding, and waterskiing. Experience the 2022 Tige and ATX lineups now at TIGE.COM / ATXBOATS.COM