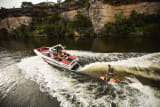 Tige Boats, Inc. Welcomes All Elements Auto and Marine as New Tige Dealer
Tige Boats, Inc. is pleased to welcome All Elements Auto & Marine to their world-wide family of dealers. The All Elements team has always had a passion for the boat and watersports industry and are excited to be servicing current and future Tige and ATX owners at their location.

All Elements Auto & Marine caters to lakes in Wichita, KS and the surrounding areas. All Elements is excited to bring Tige and ATX to the Wichita market to diversify the brand of boats that are offered in that area. "We believe Tige and ATX offer product lines at great price points and offer our customers a good variety of options and colors for customization," stated Sean Puckett, owner of All Elements Auto & Marine. The 2020 Tige and ATX lineups are now available at All Elements Auto & Marine.

Tige Boats, Inc. is represented by a worldwide dealer network. Dealership opportunities continue to be available both in the U.S. and internationally to those dedicated to carrying on the Tige legacy and commitment to customer service to Tige customers.

All Elements Auto & Marine
2020 E 1st Street N
Wichita, KS 67214
allelementsauto.com
316-943-8444

Going on 29 years, Tige Boats, Inc. continues to place innovation and passion at the heart of their boats. Today, Tige keeps these values alive with one common goal in mind—to make your ride better than anything else on the water. From their world-class manufacturing facility and across the 2020 product line, Tige's consistent design-driven mentality has refined the marketplace, while forever intensifying the love of life on the water. Become a part of it at tige.com.