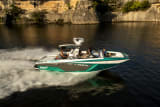 TIGE BOATS, INC WELCOMES FULL PERFORMANCE MARINE AS A NEW DEALER
Abilene, TX - Tige Boats, Inc is pleased to welcome Full Performance Marine to its worldwide family of dealers.
Full Performance Marine is a Family Owned and operated dealership located in James Creek, Pa. They are a full-service dealership offering Sales, Service, Storage, and all boating accessories. Full Performance is the largest marine dealership in Pennsylvania selling over 350 New & Pre-Owned units per year.
Full Performance caters to several large bodies of water, including Treasure Lake (PA), Indian Lake (PA), Youghiogheny River (PA), Potomac River (MD), Three Rivers Pittsburgh (PA), Deep Creek Lake (MD), and Cheat Lake (WV).
"FPM is excited about Tige & ATX because we're the only Raystown Lake, PA Dealer that will be offering Sales & Service on Wake/Tow Boats. With these 2 brands, we'll be able to offer a towboat in every pricing segment to our customers."
Experience the power of Tige and ATX for yourself and check out Full Performance Marine's full line of Tige and ATX Boats.
Tige Boats, Inc is represented by a worldwide dealer network. Dealership opportunities continue to be available both in the U.S. and internationally to those dedicated to carrying on the Tige legacy and commitment to customer service to Tige customers.
Contact Info:
Full Performance Marine
17442 Raystown Rd.
James Creek, PA 16657
www.fullperformancemarine.com
814-658-2628
Going on 29 years, Tige Boats, Inc continues to place innovation and passion at the heart of their boats. Today, Tige keeps these values alive with one common goal in mind—to make your ride better than anything else on the water. From their world-class manufacturing facility and across the 2020 product line, Tige's consistent design-driven mentality has refined the marketplace, while forever intensifying the love of life on the water. Become a part of it at tige.com.