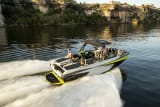 Tige Boats, Inc. Welcomes S.A.R. Sport and Recreation as New Tige Dealer
Tige Boats, Inc. is pleased to welcome S.A.R. Sport and Recreation to their world-wide family of dealers. With 5 years in the powersports industry and a passion for watersports, S.A.R. has added Tige Boats and ATX Surf Boats to their fleet and will offer sales and service to future and current owners.

S.A.R. Sport and Recreation are excited to bring on the Tige and ATX lines because of a consumer demand for an inboard product such as Tige and ATX. S.A.R. caters to Lake of the Woods, The Whiteshell Lakes, Clear Lake and most lakes in Manitoba and NW Ontario. "We believe that Tige is set apart from other towboats because of its premium brand, striking interior, and finishing touches. Not to mention it produces an amazing surf wave," said Kurt Enns, owner of S.A.R.

The S.A.R. team is equipped with a dedicated staff here to serve you. "Integrity, honesty, and respect are important to us and we commit to treating every customer with these values, and correcting any mistakes with the same goals," added Enns.

Experience the power of Tige and ATX Surf Boats for yourself and check out SAR's full line, including the flagship models 23RZX and 23ZX as well as the ATX 22 Type-S.

Tige Boats, Inc. is represented by a worldwide dealer network. Dealership opportunities continue to be available both in the U.S. and internationally to those dedicated to carrying on the Tige legacy and commitment to customer service to Tige customers.

S.A.R. Sport and Recreation
301 Provincial Trunk Highway 12
Steinbach, MB R5G 1T8
sarsteinbach.com
(883) 326-4154

S.A.R. Sport and Recreation
1601 PTH 1st Street
Brandon, MB
sarsteinbach.com
(204) 725-1117

Going on 29 years, Tige Boats, Inc. continues to place innovation and passion at the heart of their boats. Today, Tige keeps these values alive with one common goal in mind—to make your ride better than anything else on the water. From their world-class manufacturing facility and across the 2020 product line, Tige's consistent design-driven mentality has refined the marketplace, while forever intensifying the love of life on the water. Become a part of it at tige.com.