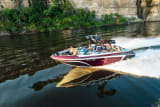 Tige Boats, Inc. Welcomes Sportsmans Marina as New Tige Dealer
Sportsmans Marina opened on Greenwood Lake in Hewitt, New Jersey in 1952. Under new ownership in 2015, Sportsmans underwent a multi-million-dollar renovation which included a new retail store, 5,000 square foot service facility with a one-of-a-kind indoor wet pit and 200 boat slips.

Sportsmans Marina has many lakes that they cater to. Among these lakes are Lake Greenwood, Lake Hopatcong, Lake Mahopac, and Lake Wallenpaupack.

"We are excited to welcome wakesurfing, wakeboarding and waterskiing enthusiasts to our first-class facility," stated Richard Press, owner of Sportsmans Marina. Sportsmans Marina will be opening a fully stocked wakesurfing pro shop this season and have plans to offer lessons in the future. "We believe Tige Boats and ATX Surf Boats offer the best quality, price, and technology in the inboard market," added Richard.

Experience the power of Tige and ATX for yourself and check out Sportsmans Marina full line
of Tige and ATX Boats, including the flagship model 23RZX as well as the ATX 22 Type-S.

Tige Boats, Inc is represented by a worldwide dealer network. Dealership opportunities
continue to be available both in the U.S. and internationally to those dedicated to
carrying on the Tige legacy and commitment to customer service to Tige
customers.

Contact Info:
Sportsmans Marina
330 Lakeside Road
Hewitt, NJ 07421
www.sportsmansnj.com
(973) 728-9611

Going on 29 years, Tige Boats, Inc continues to place innovation and passion at the heart of their boats. Today, Tige keeps these values alive with one common goal in mind—to make your ride better than anything else on the water. From their world-class manufacturing facility and across the 2020 product line, Tige's consistent design-driven mentality has refined the marketplace, while forever intensifying the love of life on the water. Become a part of it at tige.com.